Senior Pastor, Rev. Anna Gillette
Pastor Anna Gillette is a fervent minister who feels called to lead congregations in clarifying and attaining their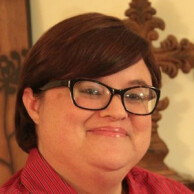 vision for ministry. She deeply loves creative and passionate worship and teaching Bible studies for all ages.
Pastor Anna has served at Marlton United Methodist Church, Princeton UMC, and Centenary UMC in Lambertville. She and husband, Trey, are graduates of Princeton Theological Seminary. Trey works at Princeton Theological Seminary and has degrees from the seminary in Theology, Christian Education, and Spiritual formation.
Pastor Anna and her family moved to NJ from Abilene, TX in 2009 to attend Princeton Theological Seminary. While attending Princeton she worked in the ministry at Princeton UMC for the last two years of her seminary schooling. After graduating from Princeton in 2012, she received her first appointment to Centenary United Methodist Church Lambertville a month later.
Pastor Anna and and her husband Trey have three sons: Eric lives in TX with his wife Abby and Pastor Anna and Trey's grandson, Jackson. Their son Jeffrey, lives with Pastor Anna and Trey while attending Rowen University, Burlington County. He has a service dog, Cooper, who is a diabetic alert dog. Peter graduated from Rider University with a film degree and he lives in Arizona. He works for a post-production firm in L.A. Finally, while living in Abilene, Pastor Anna owned a Christian Performing Arts Academy, teaching ballet, liturgical dance, and musical theater.
Music Ministry Director, Jim Gilbert

SPRC, with immense pleasure, would like to introduce to the congregation our new Music Ministry Director, Jim Gilbert who will start on October 2, 2022. Mr. Gilbert will be playing the organ and piano during the traditional service and will lead our choir and bell choir into our future. He also will be leading the Praise Band playing the keyboard and directing the children's choir during the contemporary service. Mr. Gilbert has 25 years experience in technology and music. He majored in voice and minored in technology in college. He has been Worship Coordinator for several churches throughout his career. He most recently played for Saddle Brook First Reformed Church, but upon moving to Whiting he was seeking God's direction for a ministry closer to home. We welcome, Jim to the St. Andrew family and hope you will come out and greet him on October 2.