Our custom at St. Andrew UMC is to present an opportunity for giving to Mission projects as we come forward to receive Holy Communion on Communion Sunday each month. Some of the Mission projects which receive funding from the monthly Communion Offerings include: United Methodist Special Sundays (Human Relations Day; One Great Hour of Sharing; Native American Ministries; Peace with Justice; World Communion Sunday; UM Student Day); The Neighborhood Center; Our St. Andrew Youth Summer Mission Trip; Community Services, Inc./Meals On Wheels; UMC of Tanzania; Our Thanksgiving Baskets Outreach Project; and, Our Angel Tree and Christmas Outreach Projects.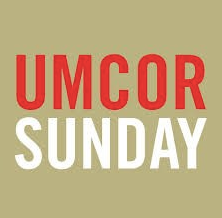 MARCH COMMUNION OFFERING
Our March Communion Offering is designated for the UMCOR Sunday Offering (formerly One Great Hour of Sharing). Please see the nearby article which describes the significance and impact of this special offering. When you give to the UMCOR Sunday Offering, you help cover the annual operational costs for UMCOR. Your gift allows UMCOR to apply 100% of other donations directly to relief efforts as well as long-term education and support. Thank you for your generous gift to the UMCORSunday Offering.
UMCOR SUNDAY OFFERING
UMCOR Sunday is one of the Six Special Sundays with an offering in the United Methodist Church. As the humanitarian relief and development arm of The United Methodist Church, the United Methodist Committee on Relief (UMCOR) assists United Methodists and churches to become involved globally in direct ministry to persons in need. UMCOR works with vulnerable communities to strengthen self-sufficiency and encourage partnerships. UMCOR responds to U.S. and international disasters, addresses diseases of poverty, ministers to refugees and immigrants, provides clean water and actively works to reduce hunger.
Gifts given on UMCOR Sunday cover the costs of doing business so that UMCOR can respond when and where it is needed most, working to alleviate human suffering and advance hope and healing. UMCOR will be able to offer aid in Jesus' name to those who suffer because United Methodists give through UMCOR Sunday. In fact, it's your generous giving that allows us to respond when disaster strikes. When we meet the needs of those who suffer we actually minister to Jesus, who said: "I was hungry and you gave me food to eat. I was thirsty and you gave me a drink. I was a stranger and you welcomed me. I was naked and you gave me clothes to wear. I was sick and you took care of me. I was in prison and you visited me." (Mt. 25:35-36, CEB). As we respond, we recognize Jesus in those who are reeling in the wake of disaster.